Top Trending Latest News Stories and Headlines Covid-19
Friday January 7, 2022 |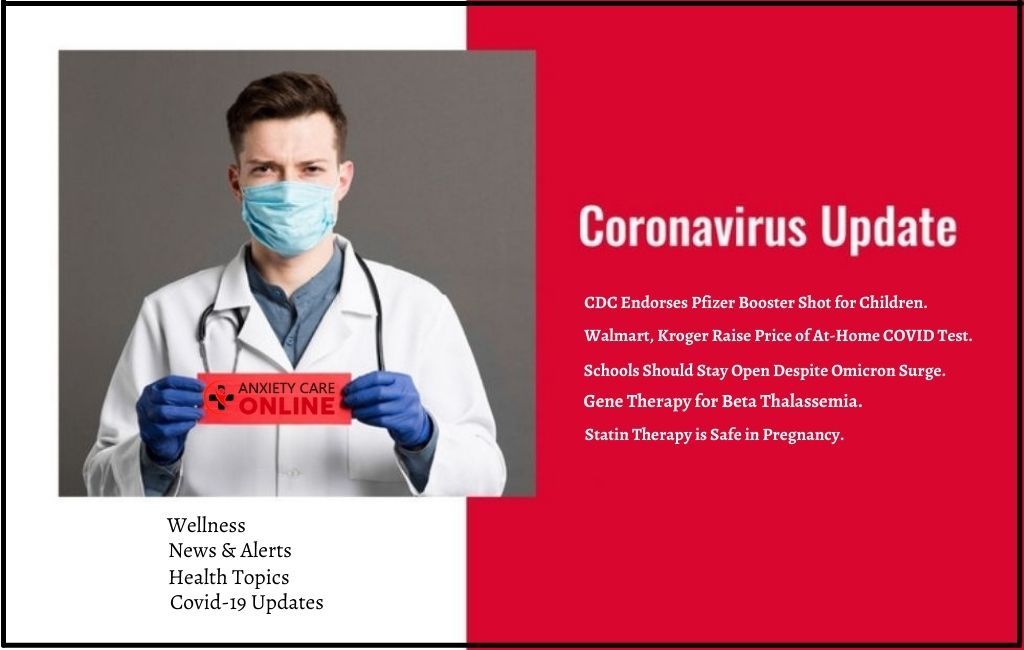 1.CDC Endorses Pfizer Booster Shot for Children Over 12 Years of age.
The Centers for Disease Control and Prevention director has endorsed an advisory panel's recommendation that 12 to 17-year-old children take Biotech Covid-19 booster shots.

2.Pneumonia in Childhood Predicts Respiratory Issues in Early Childhood.
Recent medical research, held on approximately 7000 people, has proved that preschoolers with Pneumonia are more likely to have chronic respiratory diseases in early childhood.

3.Antidepressants are not that effective in females with cancers. 
A 9-weeks study using FSFI as a measurement tool has proved that antidepressants are ineffective in treating sexual dysfunction in females with cancer.

4.First Flurona Cases Reported in the United States.
Health authorities in Texas, California, and Kansas have reported cases of Flurona, in which people have covid-19 and seasonal flu.

5.Statin Therapy is Safe in Pregnancy.
A study in Taiwan including more than 1.4 million pregnant women indicated that prenatal statin use might pose a risk for preterm birth.

6.Omicron Estimated to be 95% of Coronavirus Variants in the United States.
CDC has said that the Omicron variant was estimated to be 95% of the coronavirus variants circulating in the U.S. as of January 1.
Gene Therapy for Beta Thalassemia. 
Lentiviral globin gene therapy with reduced-intensity conditioning was safe and effective in beta-thalassemia in a 6-8-year follow-up.
Walmart, Kroger Raise Price of At-Home COVID Test.
Walmart and Kroger increased the price of home COVID-19 test kits after the expiration of an agreement with the government to sell the tests at a lower cost.
Several U.S. Patients who have Esophageal Cancers Do Not Undergo Screening.
A new study shows that a large majority of U.S. patients with esophageal cancer have not undergone esophagogastroduodenoscopy screening before their diagnosis.
Addressing Pain in Patients With Opioid-Use Disorder and Advanced Cancer.
 When treating pain in patients with the opioid-use disorder and advanced cancer, a panel of experts generally favors continuing treatment with methadone or buprenorphine-naloxone.
U.S. Hospitals Noticing a Different Kind of COVID Surge This Time.
Hospitals across the States feel the Omicron variant's wrath and get thrown into disarray that is different from other COVID-19 surges.
Schools Should Stay Open Despite Omicron Surge.
Joe Biden Says,' We have no reason to think at this moment that Omicron is worse for children than previous variants.
Hyperinflammatory States and Brain Injury in COVID-19
Markers of brain injury are detected in patients with COVID and are associated with autoantibodies and elevated proinflammatory cytokines. The study has not yet been peer-reviewed.
Novel Antidepressant Shows Promise as Add-On Therapy.
A novel NMDAR antagonist gives rapid and sustained antidepressant results in people with major depression ― without the dissociative effects common with ketamine, a new phase 2a study suggests.
U.S. Court Revives Lawsuit Against Pfizer (pharmaceutical), Others on Iraq Terrorism Funding Claims.
A US appeals court has revived a lawsuit against AstraZeneca, Pfizer, and some other companies over allegations their contracts with Iraq's health ministry helped fund terrorism that killed Americans during the war in Iraq.